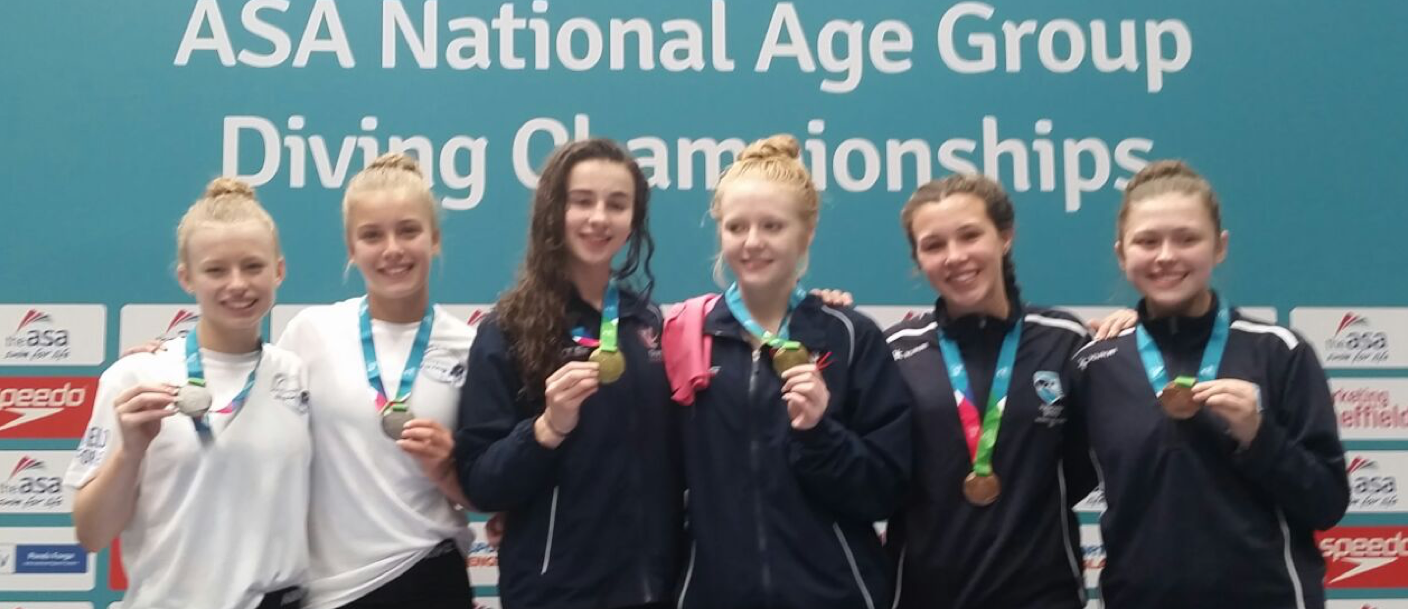 National Age Groups and National Skills
Just to challenge us the National events committee put on two events within 9 days of each other – Plymouth Diving stepped up to the challenge sending a total of 55 divers across both events.
First up the novice divers travelled to Southend for the Skills finals – a mammoth team of 37 in total had already completed qualifying competitions and were determined to enjoy their National event.
Plymouth won a total of 4 medals – beating last years total of 1 so a big improvement overall.
Lucy Gutierrez took Gold in a really exciting Girls 11 years competition with a score of 314 beating the silver medallist by 14 points. In the boys 12 years event Alfie Westerman took silver and agonising 0.6 behind gold after a slightly dropped last dive but still scoring 328 points – huge!
In the Boys 14-16 years we took two medals, Corben Gibbs was second with 301 points and Adam Nelson third with 293 points. Both massive improvements for the boys.
The Plymouth team as a whole did a fantastic job when you consider they need to master between 10 and 12 skills each…
14-16 years:   Calvin Krimmelbein 11th
Kate Saxby 10th                              Angel Yussoff  12th      Abby Fishleigh 18th
Jess Burke 19th                              Georgia McCoy 30th   Amy Davis 31st
13 years:                     Maria Marasecu 11th               Poppy Hall 18th                        Alex Lamerton 19th
12 years:                     Millie Ayres 10th                      Asia Brown 12th,                      Gemma Steer 22nd      Thalia Bellan 25th
11 years:                     Ellie Jarman 6th                        Olivia Hall 12th                       Chloe Cox 23rd
10 years:                    Jack Kinsman Moore 9th         Josh Williams 10th               Alex Snell 11th                     Jamie Daniels 13th              Ben Kearton 14th
Katie Martin 12th                       Maia Pearson 13th                Ellie Pearce 18th
8/9 years:                  Oscar Hart 8th                            Oliver Heath 11th                 Aidan Lamerton 14th      Thomas Bennett 15th
Scarlett Colbourne 6th               Polly Evans 14th                   Harlie Stringer 15th         Lakaysha Pay 18th
At the National Age Groups the team were trying to emulate 13 medals from last year and came up just short with 9 but the level of competition has risen once again with some very tough competitions for the divers.
Top diver of the week was Connor West in the boys 14/15 years category, who picked up three Golds (Synchro, 3m and Platform) and a silver in the 1 metre. This was a fantastic improvement from last year and is our best ever result at this level. Connor's synchro partner was Harry Mason who also picked up a bronze from the Boys 16-18 3 metre.
Summer Radcliffe in the girls 10/11 years category won Gold in the 1 metre event and some near misses in her three other events.
Aimee Fishleigh and Shana Vallance took the girls synchro bronze medal which was a fantastic result for them and they each came close with their other events with a 4th place each.
Josh Hughes hit bronze at the fourth attempt after a weekend of up and down diving, he finally found his feet on the 1 metre in the boys 14/15 years category.
Tommy Davis also took a bronze in this category but in the platform event, another fantastic result showing great improvements.
Mister Unlucky was Euan McCabe who recorded two 4th places in very tough events.
A HUGE THANKYOU TO ALL OUR CHAPERONES WHO HAVE HELPED US THESE LAST FEW WEEKS……..KELLY PHILIPPS, NIKKI KINSMAN MOORE, JAMIE LOMAX, LAYLA STRINGER, SUSAN RADCLIFFE, ANNA McCABE, LEE WEST, ALBIE RADCLIFFE
Other divers results were:
 Synchro: Frances Burdett & Summer Radcliffe 4th, Josh Hughes & Sam Isaac 4th, Oscar Piper & Euan McCabe 6th, Zach Anderson & Josh Freeman 8th, Evie McCabe & Orla Lynch 13th, Josh Gibbs and Ben Bluett 14th
Group D: Euan McCabe 4th, 4th and 10th           Oscar Piper 9th and 11th                        Zach Anderson 13th, 15th, 19th
Group C: Frances Burdett 9th, 13th, 22nd            Evie McCabe 14th, 26th, 29th               Ben Bluett 11th, 15th,
Josh Freeman 19th, 24th, 28th              Josh Gibbs 24th, 27th, 28th                  Orla Lynch 17th, 23rd, 40th
Group B: Sam Isaac 7th, 8th, 11th                           Morgan Boyd 12th, 15th, 15th
 Many thanks and congratulations to the coaches who have helped the divers to their successes this year from the day to day coaching to the support in competition – it all helps to build the great team that is Plymouth Diving……Fito Gutierrez, Chaz Cooke, Kathryn Lewis, Ash Hendric, Drew Cunningham and Jaymee Lewis