Coaches and Judges
COACHES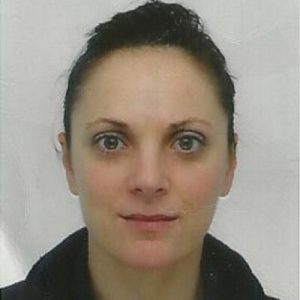 Sally dived in Plymouth from 1985 to 1997, then in Leeds from 1997 to 2000. She is the first diver ever from Plymouth to qualify for a Senior International and also compete in the Commonwealth Game in 1994.
Sally also dived in the 1998 Commonwealth Games and the 2000 Olympic Games.
Her coaching career began in Plymouth in 1992 and has since coached for Leeds, Bradford, Southampton and relocated back to Plymouth in 2007.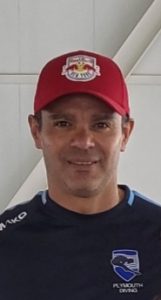 Fito began diving as a young child with his brother Ricardo.  The pair practiced together in their home country of Mexico.  Displaying a natural talent for the sport, Fito was entering diving competitions at the age of 10.  At the tender age of 16, Fito was the first diver to perform a back 1 ½ with 4 ½ twists and held the National Champion of Mexico title – an impressive accomplishment.
On the back of this, Fito was immediately picked for the Mexican National Team and for the next eight or nine years, appeared around the world in international competitions. Eventually, his path was to lead him to Britain. 
In 1991, Fito visited Britain for the first time to compete at the Student Games which were held in Sheffield.  His commitment to the Mexican National Team involved traveling the world.  Training hard over the following months, he narrowly missed a place on the Mexican Olympic Diving Team in 1992 and again in 1996.  Fito represented Mexico at the Junior World Championships in 1996.
It was at this point that Fito was approached by a group of friends who were professional high divers who happened to be starring in a show at Blackpool Pleasure Beach. They asked Fito to join them and he decided to say yes.  Day after day, Fito and the 6 strong teams wowed audiences.  They performed death-defying dives from a 25 metre board, which included setting themselves on fire and performing human torch dives.  The season drew to a close in November and Fito returned to Mexico.
In May 1997 Fito was back at Blackpool Pleasure Beach for a second season.  Once again Fito returned to Mexico at the end of the season.  In February 1998 Fito arrived back in Britain for his final stint at Blackpool Pleasure Beach.
Deciding to take a break from Blackpool, Fito took a job as a Diving Instructor for Esprit Diving Club at Shipley Pool.  This was the start of Fito's coaching career where he was selected by British Diving to coach the British Diving Team for the European Championships in 2003 and the CAMO Invitational in Montreal in 2005.
In 2006 Southampton Diving Academy appointed Fito to the role of Diving Development Officer to work with potential divers in an Elite Diving Academy.
Fito moved to Plymouth in 2007 to work at what is now known as the Plymouth Life Centre.
In 2008 Fito placed second at the Worlds High Diving Championship in Veracruz, Mexico diving from 27 meters.
Competing for Great Britain in 2016 at the European Masters Championships in London, Fito proved to still be a formidable diver.  He won a gold medal on one metre and platform plus silver on three metre.
Fito continues to dive for pleasure and can often be seen diving with current Red Bull cliff divers – the passion for the high diving sport has never left him.  He takes an active role in developing high divers from the UK and other countries including USA and Germany.
Cycling and wild camping are also hobbies that Fito likes to take part in when he has down time.
Fito currently coaches the Mighty Mini, National Age Group and Elite Development squads for Plymouth Diving.
Harry began his competitive diving career in 2010 competing at the White Rose in Leeds.  The following year Harry clinched the gold medal at the Peter Waterfield Novice.  Moving from Skills competitions onto Age Groups Harry continued his success.  In 2014 he won an individual silver medal in the 3m event and synchro at NAGS.  2016 NAGS was an equally good year for Harry, winning an individual bronze on the 3m board and a gold 3m synchro medal.  Harry embarked on a solo trip to Rome in 2017 to compete in the 7th Trofeo Niccolò Campo.  In 2018 Harry made the decision to retire from competitive diving due to injury.  He competed for the last time in front of a home crowd at the Armada Cup, where he had won a variety of medals over the years.
By April of 2023 Harry could no longer ignore the yearning to compete again.  He took part in the Great Britain Diving Federation Spring Masters held in Southend where he represented Plymouth Diving.  It was a decision that paid off.  Harry won the gold medal on 1m and silver medal on 3m. 
In 2014 at the age of 15, Harry was the first diver to complete the ASA South West Young Coach Programme.  He went on to be selected for a 12 month programme with ASA, achieving 100 hours of volunteer coaching and also attended a National Young Coach Talent Camp at Loughborough University.
Harry is a qualified Level 2 Coach.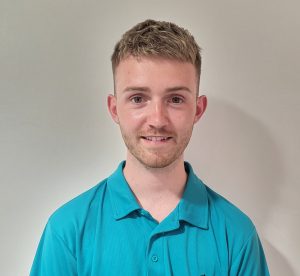 Kyle began diving at the age of 11.  After trialing many different sports he attended a public diving session with some family and friends. He went home to tell his parents that he'd like to start diving. They were a little reluctant to begin with as Kyle had jumped from one sport to another but he was determined to make this one work.
At a young age Kyle competed in swimming galas for Dinnaton Swimming Club in Ivybridge, the town where he grew up. After falling out of love with competitive swimming he moved onto gymnastics; competing for Stowford Primary School. When Kyle moved onto secondary school he became part of the Ivybridge Community College Gymnastics Academy.
In 2013 Kyle travelled to Leeds for the White Rose skills diving competition. Shortly after, Kyle made the decision to stop competing. Instead, he wanted to continue to improve his diving and enjoy the training with friends. Without any pressure to perform, Kyle found the confidence to start learning harder and bigger dives as a platform diver. By the end of Kyle's diving career he had learnt multiple dives off 10m, including arm stands and somersault dives in different directions. More importantly, Kyle made friends for life including GBR diver Kayleigh Sinclair and three times Olympian Tonia Couch plus numerous others.
Kyle completed his Level 1 and 2 diving qualifications back in 2017. Since then he has been coaching at the Plymouth Life Centre seeing many young children develop into
confident divers that are now in squads.
Kyle now coaches part time. The remainder of his working day is spent as a Hairstylist and Colour Technician. After the 2020 covid-19 lockdown Kyle decided it was time to set up his own business after qualifying in 2016.
Having trained as a gymnast with Plymouth Swallows, Cody became a Devon Junior Champion. She attended her school's Diving Talent Spotting Session which was held by Andy Banks, who at the time was Head Coach of Plymouth Diving. On the back of this Cody was invited by Andy to join the club.
With a new found love of diving and the opportunity to train with the likes of Tonia Couch, Sarah Barrow and Tom Daley amongst a very strong and talented Plymouth Diving team, Cody quickly progressed through the levels of Novice, Skills and Age Group Competitions.
Medals were hard to come by in the early days but the Armada Cup in February 2015 was a turning point for Cody where she qualified for every final, across all three boards in group B. After winning silver on 3m and gold on platform it was clear that the hard work and determination was beginning to pay off.
Her big break came in the British Elite Junior Diving Championships in the April of 2015, where under the tutelage of Claire Burton, Cody went on to win the bronze medal on platform. From there Cody was invited to join the GBR and England Junior Diving squads. She competed in her first international competitions representing GBR and England in Bolzano, Italy and Dresden, Germany. Competing on platform Cody won a silver medal in Bolzano and was a finalist in Dresden.
In 2016 at the age of 14, Cody competed in her first Women's Senior British National Cup on platform in the company of Olympians Tonia Couch and Sarah Barrow – a truly memorable experience and a solid grounding for her further growth in the sport.
Cody continued with her development from this point and went on to win numerous medals and titles, including Scottish Open Platform Champion in 2018. The Women's Senior British National Cup in 2019 saw Cody finish in the top 10. In April of the same year, Cody was crowned the British Elite Junior Platform Champion to top off her career in junior diving.
An invite to a training camp from Duke University in the USA was received and readily accepted which offered a vision of how life is as a diver on the other side of the pond, a great experience indeed!
In March of 2020, just as Cody's diving career was about to enter a new chapter of senior diving, covid-19 struck along with the lengthy closure of the Plymouth Life Centre diving pool until September 2021. The repair work forced the inevitable loss of resources from Plymouth Diving including coaches. This in turn led to Cody's decision to retire from the sport and concentrate on her university studies.
Cody has enjoyed winning a plethora of medals in all disciplines of diving in her time, with her speciality being platform. This resulted in her travelling all over England, Ireland, Scotland and Europe to compete.
Cody became a Level 2 Diving Coach in 2018 and continues to coach our Plymouth Divers and strives to use all of her experience as a Champion to coach her young divers to the same level of excellence.
Diving has been, and always will be a massive part of Cody's life. The experiences and lifelong friendships that diving has brought will never be forgotten. It has provided some seriously beneficial life lessons along the way, which have all provided an incredible journey full of joy and tears!!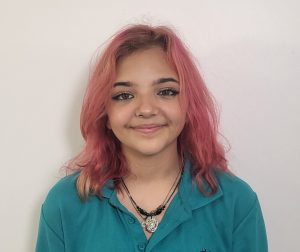 Ebony started diving at the age of 7 after doing a taster session at the Plymouth Life Centre.  At the age of 10 Ebony (along with younger sister Scarlett) was selected for the Mighty Mini Squad. 
At this time Ebony also got into trampolining.  After breaking her wrist, diving unfortunately fell to the wayside and she concentrated on her trampoline skills and DMT (double mini tramp).  Ebony represented the City of Plymouth Trampoline & Gymnastics Club competing in regional qualifiers where she qualified for the South West squad on DMT.  Ebony also competed at the English qualifiers and twice qualified on DMT.  Unfortunately, Ebony was again plagued by injury, breaking her hand before the second competition and was unable to compete. 
Ebony also practiced pole, aerial hoop and sling at Aerial Allsorts.
Just before the covid-19 pandemic hit Ebony hung up her trampoline shoes to concentrate on her GCSE'S which she smashed.  Ebony is currently studying for her A levels in English Literature, Drama and Media Studies. 
During 2022 Ebony gained her Level 1 Assistant Diving Coach qualification followed by the IQL Level 2 Award in Pool Lifeguarding, Intervention, Supervision and Rescue.
Ebony has already gained valuable coaching experience at away competitions, supporting the Plymouth Diving team.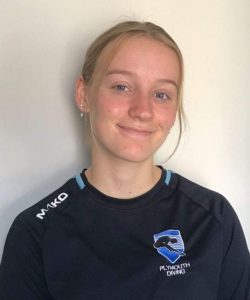 Katie's diving journey started in 2013. Coached by Ash Hendrick her debut competition was at National Skills in 2016. She soon progressed into diving at National Age Groups and became part of Fito's Elite Development squad.
In 2018 Fito took a select few of his divers to Leeds to take part in the Talent Games. Katie did incredibly well and was one of the twelve divers selected from across the country to be part of Team Z. It is the first step on the Swim England diving talent pathway and the opportunity to take part in seven camps over a two year programme, designed to develop core skills.
In April 2019 Katie took part in her first Elite Junior Diving Championships. After gaining valuable experience, by December of the same year Katie qualified for both the 1m and 3m final at the Scottish National and Open Diving Championships. Katie went on to win the 1m gold medal in group C – her proudest diving moment to date.
In March of 2020 covid-19 hit. To make matters worse the Plymouth Life Centre was shut until September 2021 for urgent repair work. Katie found this a very difficult time but always took part in the online training programmes and travelled far and wide to remain training in a pool. When the pool in Plymouth did reopen Katie became part of Sally's Elite National Squad.
In her first competition in over a year and with limited training, Katie took home the group A bronze medal on 1m at the Armada Cup, adding 60 points to her personal best
score.
Katie took her Level 1 Assistant Diving Coach course in 2022 and would like to continue her own diving journey whilst inspiring the younger generation.
After excellent GCSE results Katie is now going on to take her A levels in Sports and Sciences.  Alongside of this, Katie will also be working towards a Diploma in Sporting Excellence (DiSE) in conjunction with Loughborough College for the next 2 years.
DIVING COACH QUALIFICATIONS
ASA/SE

Assistant

Diving Coach (Level 1)

ASA/UKCC

Level 2

SEQ

(ASA/SE)

Level 3

FINA Foreign

Teaching

Qualification

Sally Freeman
X
Fito Gutierrez
X
Charles Cooke
X
Tommy Davis
X
Harry Mason
X
Cody Powell-Tuckett
X
Kyle Tulloch-Thomas
X
Connor West
X
Ebony Colbourne
X
Josh Freeman
X
Lucy Gutierrez-Freeman
X
Olivia Hall
X
Katie Martin
X
Maia Pearson
X
JUDGES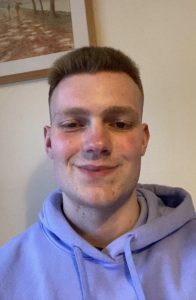 Despite not being from a diving background, Joel's passion for diving was sparked by Tom Daley and Matty Lee's historic gold for Team GB in the 10m synchro at the Tokyo Olympics.  Since then, Joel has continued to watch and learn about diving and joined Plymouth Diving in February 2023 as a Volunteer Official, while learning the art of judging.  After obtaining his J1 certificate, Joel judged his first Regional Skills and Age Group competition as well as the 2023 IGLA Championships in London – an early taste of international competition.  His somewhat unconventional route into officiating was recently featured in Swim England's 'Volunteers Week' series.  Joel is focused on building experience as a J1 through judging and shadow-judging as he now works toward the J2 qualification.
Away from the diving pool, Joel works as a data analyst and is a Trustee for the St. Ives Community Land Trust which aims to provide affordable housing for local families.  He is a keen tennis player and loves football (especially Reading FC) and F1.
BRITISH SWIMMING & SWIM ENGLAND DIVING OFFICIAL QUALIFICATIONS
Level 1
Level 2
Regional Judge
Senior National Judge
Sally Freeman
X
Fito Gutierrez
X
Charles Cooke
X
Ebony Colbourne
X
Malcolm Cowper
X
Josh Freeman
X
Lucy Gutierrez-Freeman
X
Mark Jones
X
Nikki Lang
X
Joel Trenchard
X