News
Oliver Heath nominated for Emerging Athlete award
Oliver made a memorable debut in junior British Diving colours as he claimed a pair of medals at the recent European Junior Championships in Croatia – including his maiden international title.
Oliver, who trains at Plymouth Diving Club, started the British medal rush in Rijeka by diving to Boys B 1m Springboard gold – courtesy of a clutch final dive that saw him leapfrog his nearest rival into top spot. That result was followed by silver in the Boys B 3m Springboard contest, as Heath again showed his class and composure on debut.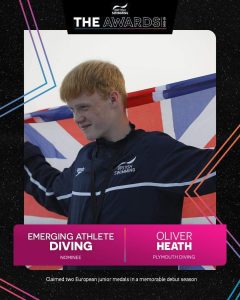 From watching at home to poolside, Joel's journey from diving fan to judge
To mark National Volunteers week, we've spoken to some of our volunteers about their journey and route into aquatics. Here, Joel Trenchard shares his experience of going from a diving fan to finding joy in judging.
Great Britain and Team England's recent diving success has been a joy to watch both at home or on poolside.
The likes of Jack Laugher, Andrea Spendolini Sirieix, Matty Lee and Tom Daley have inspired the nation in recent years thanks to Great Britain winning gold at each of the last two Olympic Games and Team England topping the diving medal table at the 2022 Commonwealth Games in Birmingham.
Like many, Joel was watching those moments at home on TV and thought 'how do I get involved in this sport?'
So he did some research and got in contact with Swim England's volunteering team and he hasn't looked back since.
Swim England put Joel in touch with Plymouth Diving – Joel's nearest club – who he joined and then signed up and completed his Level One Diving Judge course.
"I'm not from a diving background, I just happened to be a fan of the sport." He said.
"My first experience watching diving was during the Olympics in Tokyo and I kind of got transfixed by the sport. I found it so amazing."
"I was getting up early in the mornings not just to watch Matty (Lee) and Tom (Daley) win gold but all the prelims as well."
"The more I watched, the more I understood about all of the different dives so I made it one of my New Year's resolutions to get into diving properly."
"I saw the judging courses online and thought that it looked like a good opportunity to get involved. I've never dived before and I didn't think I'd suddenly be able to pull off all the skills they show in the air."
"So I did a bit of research and thought 'let's give it a try."
"You don't have to be a diver or involved in any way to get started, all you have to do is become a member and sign up to a club."
'I just clicked with it'
From judging to recorders or even becoming a team manager there are plenty of ways to volunteer and get involved in diving and aquatics as a whole but it was judging that always caught Joel's eye.
"There's plenty of other ways to get involved but I felt like I was quite observant. I've watched a lot of diving and still do so I thought judging sounded great."
"And I just clicked with the course, I really enjoyed it."
"It was online so it was easily accessible. We had people from Plymouth, Sheffield, Leeds and London so even from the course I began to get to know people from different clubs across the country."
"I actually had a bit of imposter syndrome when I was on the course because I recognised one of the divers from the Commonwealth Games and I couldn't believe it. I was thinking 'I'm doing the same course as him and he's an international diver, what's going on."
"But luckily Sarah (Barrow, Swim England Growth Officer) and Andrea (Startin, Volunteering and Development coordinator) – who hosted the course – made me feel so welcome throughout the session".
"So I think regardless of if you've dived before, as long as you're willing to learn whether you're a coach, parent or you're like me and not from a diving background you can get involved".
"Once you spend some time watching the dives and getting familiar with the different positions and the dive numbers then you really enjoy it".
A welcoming community
On May 13 Joel judged his first competition, the Southwest Regional Skills event at the Plymouth Life Centre.
It gave Joel his first taste of volunteering on poolside and everyone at Plymouth made him feel a part of the diving community.
"It was good experience and really different from what I've been watching at elite level."
"A lot of the divers were competing in their first competition so there were four events and Plymouth allowed me to shadow someone for the first half which was really helpful."
"I sat alongside one of the 1m judges and I cross referenced my marks with there's which gave me a lot more confidence."
"And then the second half of the day we had two more experienced age groups where I was able to judge properly from the 1m and 3m board which was really good fun."
"I felt like I made good friends with the coaches, the chairman and some of the ex-divers who are now coaching and judging alongside me."
"Some of them are actually younger than me which was quite nice to have people of all ages. And, I think I definitely feel involved and a part of it now."
"Everyone was really welcoming and even though it isn't the most common way of becoming a judge they made me feel like I was wanted and valued."
Joel has already been back judging at Plymouth since then and encourages anyone who is able to volunteer to do so.
"I would just say to people to get involved. You can never have enough officials and volunteers."
"Some people are running round doing multiple jobs at events so I think it would be really good if more people who have that extra time and feel like they could help out do so."
"Because if there's more volunteers then the coaches can focus even more time on the divers which will improve the quality of the sport as a whole."
Winner of the National Inspirational Club Coach/Teacher Award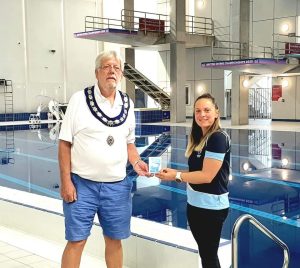 Plymouth Diving was without a diving pool from July 2020 until September of this year.  The pool closure due to repair work severely hampered training.  Throughout this period Sally Freeman was at the helm of a small team of coaches who continued to deliver training to as many of the club divers as possible.  With her contacts in the diving world, Sally arranged for wet training at Southampton and Poole.   In order to run these training sessions it meant sacrificing time with her partner and children.
The last 18 months has been tough for Plymouth Diving and at times it has been a challenge to remain positive.  As a former Olympian, diving is not just a job for Sally it is a vocation.  In recognition of her unwavering dedication to the club, Swim England awarded Sally with the National Inspirational Club Coach/Teacher Award on Saturday 9th October.  Roger Downing, the Regional President from Swim England South West presented this to Sally at the Plymouth Life Centre.