Divers of The Month
SKILLS DIVER OF THE MONTH
Our SKILLS diver of the month for JUNE:
LOUIE
(Development Skills Squad)
Louie had a very successful June, settling into his new squad and showing great determination in learning lots of new dives. Louie was lacking confidence a few months ago but has really worked hard to overcome this and showcase his ability and produce some great dives in training. His drive, attitude to training and perseverance have helped him to learn plenty of new dives in preparation for the National Skills Finals. New dives include Back and Reverse 1 ½ somersaults in tuck on 1m and 3m and Forward and Inward 2 ½ somersaults in tuck on 3m. Next up for Louie is the National Skills Finals in July, at the John Charles Centre for Sport in Leeds. Good luck and well done!
AGE GROUP DIVER OF THE MONTH
Our AGE GROUP diver of the month for JUNE:
LEXI
(National Squad)
Lexi had a very successful month consistently working hard in training, learning new dives and finishing with 4 medals (with PBs on 3m and Platform) at the Swim England National Age Group Finals in Sheffield. Going into the competition Lexi added numerous new dives to her competition list including the Inward 2 ½ somersaults in tuck off 7m Platform and 3m Springboard. Lexi produced some fantastic dives in the Finals winning the silver medal on 3m and bronze on Platform. She also teamed up with Erin to win bronze in the synchro event. However, she saved her best diving for the 1m event, where she produced some excellent dives to win the gold and be crowned National Age Group Champion. Next up for Lexi is the Southampton Invitational in October where she will be looking to build on her recent success. Well done!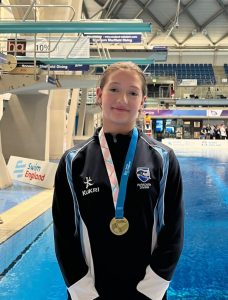 Our ELITE diver of the month for JUNE:
OLLIE 
(Elite Squad)
Ollie had a very successful month with the highlight being his performance at the Swim England Team Y Selection Camp in Sheffield. The best divers from across the country were competing for a place on the Team Y Training Squad with plenty of experienced and talented divers competing for a spot. Ollie performed brilliantly in the gym tests and carried that form into the pool tests where he consistently produced some excellent dives. Since taking part he has received confirmation that he has been selected for Team Y and will now attend several training camps with Team Y over the next 12 months.  Aside from that Ollie has been continuing to work hard in training and displays an excellent attitude to training and is working on improving existing dives and adding more complex dives to his impressive list. Next up for Ollie is the Junior European Championships in Croatia where he has been selected to represent Team GB. An amazing achievement!