Junior European Diving Championships and FINA Diving World Cup 2021
The lack of pool taining available in Plymouth did not faze Euan McCabe when he competed last week in the Junior European Diving Championships held in Croatia.
His coach; Sally Freeman was unable to join him on the trip but this did not prevent him from winning the bronze medal in the Group B, 10m event.
McCabe teamed up with Ben Cutmore from Dive London for the 10m synchro. This was the first outing for the pair and resulted in an impressive performance to win the silver medal.
Plymouth Diving continues to face challenges, with the Life Centre diving pool still out of action until the end of August this year. Currently the best the club can offer divers is a wet session in Poole once a week.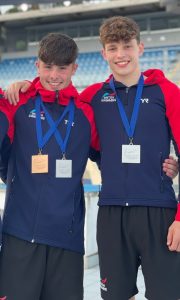 9