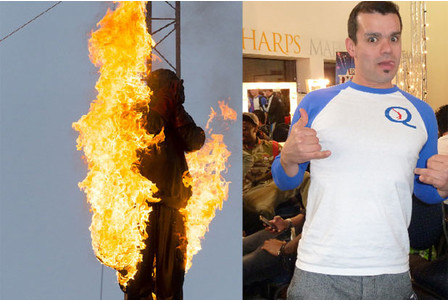 Plymouth Diver wows country high diving 25m on Britain's Got Talent
A FEARLESS diver who launched himself off a 25-metre-high board on TV show Britain's Got Talent has described the "dangerous" experience to The Herald.
Fito Gutierrez is part of the eight-strong La Quebrada High Diving Team which appeared on the ITV show on Saturday night.
The 43-year-old said: "It's hard going and it hurts. You could die.
"I know what I'm doing and I know it's dangerous. If it goes wrong then it goes very wrong.
"I wasn't nervous though, I was really excited. I'm an adrenaline junkie."

Read more at http://www.plymouthherald.co.uk/video-plymouth-diver-wows-country-high-diving-25m/story-19043481-detail/story.html#VfudRyQC0KB1JIsC.99
The dad-of-two, who works as an assistant to the head coach at the Plymouth Life Centre, dropped into a small pool at 90km/h in nearly freezing temperatures and windy conditions.
The performances also included some of the divers being set alight.
"I'm the most experienced one and they know I'll do a good job," Fito said.
"They trust me to do the dive, it has to be right, there's no option, you can't fail and there's no room for error.
"If you jump too far away you will land on the concrete.
The wind is the biggest problem. The tower isn't very stable, it moves in the wind and while I was on it I had to cling on.
"I had to factor the wind into the dive as well because when you jump you can be on the right course but by the time you drop 25m it could have carried you elsewhere."
Lasting just three minutes, the audition in Cardiff took place in March and was aired on Saturday. It has since been watched thousands of times on YouTube.
Fito said the judges, made up of Simon Cowell, Amanda Holden, Alesha Dixon and David Walliams, had no idea what to expect when they were led outside from the studio to watch the performance.
"We were talking to Ant and Dec before and they were saying that it looked mental and we told them about the fire," Fito said.
"Simon said before the performance 'You better be good'. I think he was in a bad mood because they had seen a lot of singing acts that day. They had spent a lot of money on it so they wanted to make sure it was good," he added.
Fito started his diving career aged just eight. The Beacon Park dad moved to Blackpool to join the La Quebrada High Diving Team in 1996.
The high divers received four yes votes from the judges and it will be revealed on Britain's Got Talent on Sunday whether they are through to the semi-finals.
Read more at http://www.plymouthherald.co.uk/video-plymouth-diver-wows-country-high-diving-25m/story-19043481-detail/story.html#VfudRyQC0KB1JIsC.99